When seen racing back to cover, or to be first to a loose ball, the lasting impression is of arms and legs furiously pumping, his chest bowed and practically a step in front–more than anything else. He's giving everything he's got. That epitomizes Zach Scott.
He appears to have broken through one brick wall and is prepared to lay waste to another. And another. Whatever it takes.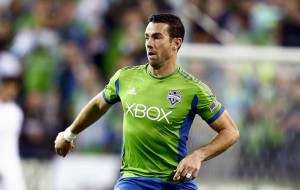 To know Scott's story is to know how unbridled determination and belief can undo all those laws of probability. It has taken belief in one's self and the providential belief of others in him to reach this point, this moment, when he becomes the first Sounder to reach 300 appearances.
First, a word about 300. It's not some random number; it defines a rarity. Only 23 players have surpassed 300 appearances in the first 19 seasons of MLS. Furthermore, of those 23 only Cobi Jones did so for one club. Going back 40 years, only Bob Lenarduzzi's 312 matches for Vancouver are greater.
Then there's the Zach Factor. Jones and Lenarduzzi were national teamers for the US and Canada, respectively. This guy, Scott, was a longshot to play the game at the college level, let alone the pros. He was a walk-on at Gonzaga, a trialist for the USL Sounders and further defied the odds in winning (and keeping) a place in MLS with Sounders FC.
Made in Maui
Continue reading Zach Scott at 300: Epitome of Improbability →