Records are made to be broken.
Of course, the author of that saying assumes the team or league remains viable into the future.
Anyone who's followed the struggle of professional soccer to gain a lasting foothold in America knows that you can fill a dustbin with all the acronyms–USA, NASL, MISL, ASL to name a few–that would rise and fall in the past 50 years.
And when a league and its members are laid to rest, the personalities adapt and move on. The records, however, remain behind. Never to be matched or overtaken. However, those records, those standards, can still provide a valuable service.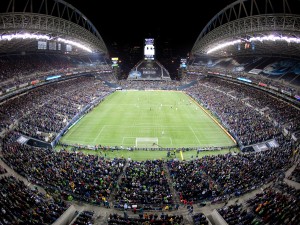 History has a place and a valuable role to play in contemporary times. Major League Soccer should be commended for its viability and growing popularity. Yet the achievements of MLS at the league and club level too often ignore or gloss over what came before. That's unfortunate, not only because it shortchanges the contributions and sacrifices of our forefathers, but also because the accomplishments of the past provide a much-needed scale for the successes of today.
Here's an example: In 2010 Sounders FC hosted the U.S. Open Cup final before a crowd of 31,311. By taking the short view, an observer might conclude that attendance (and thus the relative importance of the match) sub-standard. After all, Seattle averaged over 36,000 per MLS game that year.
But in the context of Open Cup history, that attendance figure looms large, very large. In fact, it was the largest attendance gathering in the tournament's then-97 years and by a margin of 9,728 over a 1929 final played in Brooklyn. Moreover, it was not a season ticket event; starting from scratch, those tickets were sold in just 32 days.
Disappointing turnout or record-breaker? It all depends on the prism through which you view it.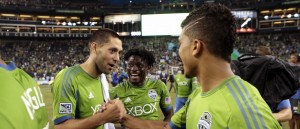 Obafemi Martins and Clint Dempsey are the most prolific Seattle strike force in the MLS era. However, they are unlikely to reach the standard set by a tandem a generation ago.
Knowing your history puts matters in perspective. The comparison may not be perfect, the mitigating factors can be argued. But that's exactly the point. These numbers, these comparisons should promote a conversation, an exchange that can further illuminate the feat, whether it happened 40 years ago, or last Saturday.
A new league might be introduced, an old brand revived. By adding context to the numbers, old-time records become valuable, become relevant. And when they are surpassed, that feat is all the more valid.
All this is a preamble to a discussion of superlative performances by teams and individuals over the history of professional (and occasionally collegiate) soccer in the Puget Sound area.
If you have suggestions over what categories you'd like to see explored, please use the comments section for your submission. Periodically this space will be used to bring bygone achievements to light and compare to contemporary times.