In the moments before kickoff, as I peak over my outstretched scarf and survey the throbbing mass at the CLink, I sometimes close my eyes for a moment and give thanks. I'm thankful to be there with family or friends and forty-thousand like-minded disciples. And I'm thankful for all those who made this scene possible.
To be honest, there are probably hundreds of people deserving of a shout out. Make that thousands. Because what makes Sounders FC world class is the sheer size and fervor of their support. In time the play will climb to that elite level; your voice and your passion is already legend.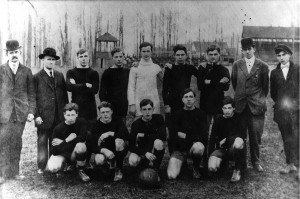 Ah, but you are not the first throng to throw yourselves behind this great game.