Forty years on, it remains a remarkable match. Not only did it captivate American soccer's growing audience of the day and provide a fairytale finish for a global legend, Soccer Bowl '77 also cast the pathway, for better or worse, for a club and a country seeking to development a professional presence.
For those who witnessed the NASL final between the glamorous New York Cosmos and unfashionable (outside Cascadia) yet fearless Seattle Sounders, it left an indelible mark on the memory. Just a glimpse of the video or photos awakens the senses.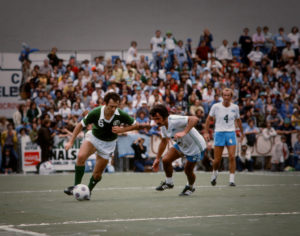 Of course, there was the epic backdrop: a gray, late summer Sunday afternoon, Portland's Civic Stadium crammed full of 35,548 spectators, some sitting cross-legged on the artificial turf, just a few feet from the field's boundaries.
There is the 'Oh, no!' moment of a partially deaf Sounders keeper being fleeced of the ball for the game's opening goal. There is the rapid reply of Seattle to equalize, the relentless pressure and the sheer openness–rarely found in a final–that leads to dozens of chances (22 shots on target, two others by Seattle off the frame itself). And there is the chaotic scene at the final whistle, the crowd streaming onto the pitch and the shirtless Pelé running and hugging his teammates.
Simply Unforgettable Continue reading One Game's Profound Legacy →