Play is about to begin in the English Premier League, and that means summer is over for Arlo White. The former Sounders FC broadcaster begins his fifth season as EPL play-by-play voice for the NBC Sports Group with a whirlwind of assignments. All this comes after the Whites vacationed at some iconic American destinations.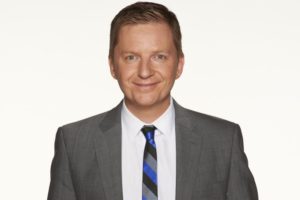 Arlo White may have returned to his native England, but he always holds America close to his heart, not to mention some clubs that, like his beloved Leicester City, enjoyed profound success in the past year.
Your summer is a short one and the English season is about to begin. Are you able to get breaks for off-field fun during the EPL season?
During the season–and it's a long season, some nine and half months–every time there's a FIFA break or an FA Cup weekend and the Premier League teams are idle, my daughters are in school. And every time their school is on vacation, I'm working on Premier League games. It's very, very difficult to spend any quality time together. As soon as the season ends in May, we head off to some place nice, like the beach, just to decompress a little bit at the end of the season.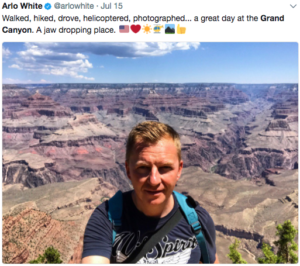 People following on Twitter saw you share postcards from some great destinations these past few years. How long were these trips in the works?
During winter months, we are busy planning our next American adventure. In 2015, we went to Florida to do Disney and did a bit of a road trip down to Naples, and it gave us a taste for something a little bit more expansive. Last summer we landed in San Francisco. We drove to Yosemite, we drove back to Los Angeles and did the great Pacific Coast Highway and it was fantastic. This year we differed slightly, and planned it meticulously. We landed in Las Vegas, drove to the Grand Canyon, then Palm Springs, Santa Monica, down to San Diego and then flew to Chicago where I spent four nights with my family which I really enjoyed. Unfortunately, we didn't make it to Seattle. Hopefully that will be part of a future trip. We love our U.S. vacations and road trips. We've developed a little bit of a soft spot for California as well.
Clearly, you still have interest in America, it's culture and attractions. What determines your itinerary? Continue reading The Next Voice You Hear: Arlo White →