Even by standards 50 years ago it was a modest match day program. Yet it matched the surroundings and, some might say, the fare that was on display that afternoon.
Still, it was a start. Turning the page, maybe spectators took pause from watching the stocky, commanding figure standing astride of the benches, to let the significance of the day soak in.
In a simple font, probably prepared on someone's personal typewriter, flow the words: "We are sure that this game will be a milestone in the history of soccer in our state." It goes on: "It is with pleasure and a feeling of satisfaction we are able to act as hosts to the first all-professional soccer game held in our state."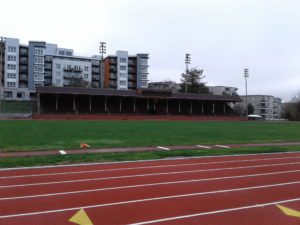 It's actually easy to picture the setting today. West Seattle Stadium sits virtually untouched, not only in the 50 years since but the 80 since being erected. The main stand, wooden and covered, could serve as a stunt double for a mid-20th Century British ground. The weather on that February 11, 1968 was practically spring-like: Bright sunshine and mild temperatures after a cold, soggy start to the new year. The grass is a bit long and ungroomed while the ground itself is soft from repeated rains.