If they were writing a book entitled The Team Most Unlikely To, the Sounders would already be well into chapter four.
On the heels of the improbable second half and 2016 playoff run to an MLS Cup, in the first 18 matches this season Seattle has staged a three-goal comeback in the last 15 minutes versus New England and, earlier this week, come from a man down and a goal down at Portland to earn a dramatic draw at the expense of two points to their most despised rival.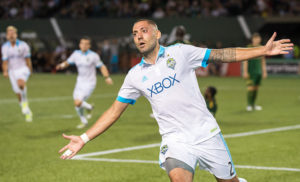 The first two acts are unprecedented. Seattle had never won a top flight championship, let alone after such a disastrous start. The Revs also proved to be a foil for Sounders history.