Most have heard the stories of Brian Schmetzer's days as contractor, of his knack for identifying a problem and intuitively identifying a fix. His latest remodeling project has been on Occidental Avenue, specifically flipping CenturyLink Field from an address with a Welcome mat to a destination out-of-towners would just as soon avoid.
Since his hiring last summer, the CLink is The House Schmetzer Re-built. Going into Atlanta United's visit, Seattle is on the verge of claiming one of the top home unbeaten runs of all-time.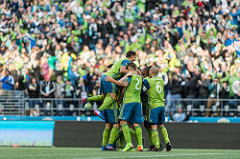 Dating back to those formative days in Memorial Stadium, the Sounders have fashioned a formidable (.716) win percentage) at home. Across all competitions, Seattle (including iterations of Sounders, plus the Storm) own 17 home unbeaten streaks of 10 or more matches. That's impressive. So is the fact that the Rave can crack the top nine on Friday.