Down through the years, Seattle certainly can claim its share of goal-scoring central defenders. Beginning with David Gillett driving home a corner kick in '74 and renewed through Chad Marshall's flick to the far corner versus Chicago, the big backline boys have often proven the difference between victory and defeat, at both ends of the pitch.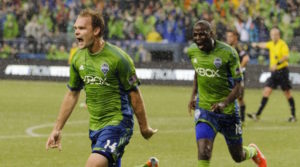 This year alone, three of Marshall's four goals have translated to five additional points in an extremely tight playoff race. Time will tell the true importance of that header, although it wasn't Marshall's first big score. There was the late winner vs. Philly in '14 and the added time strike at Dallas in the playoffs a year ago.
Whether in the opponent's box or his own, Marshall's works are textbook, efficient, clinical in application. As for center back goals, it's doubtful he will ever deliver with the panache of Djimi Traore's long-distance, aggregate equalizer against Tigres or Patrick Ianni's sidewinder extraordinaire vs. Sporting KC.
Four Goals is Significant Continue reading Center-Halves And Full of Goals →