It was not as if Seattleites needed another option on their sporting menu.
Already the calendar was crammed full, year-round with Seahawks, Mariners, Sonics, Sounders, minor league hockey and all things-Huskies. Four different sports were being played in that concrete edifice on King Street known as the Kingdome. And now they would squeezing in a fifth.
Speed soccer was its name–at least locally–and back in the day when the NASL sat quiet for nearly seven months, it was a welcome winter respite, for player and fan alike.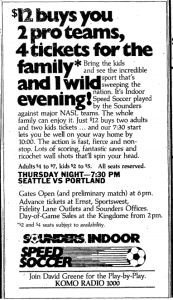 While indoor, 6-a-side soccer has since become a staple with regard to participants, in the winter of 1980-81 it was a novelty, an oddity, where Seattle was concerned.