If it seems of late that Sounders FC are getting off on the front foot, it's no illusion.
Not only is Seattle in a unique position (for them) of owning a lead going into the second leg of an MLS postseason series, the Rave have scored more goals in the first 10 minutes than any season in Sounders history, dating to 1974.
Normally, the initial stages of a match are fraught with caution. Square passes, back-passes and generally a sorting out of what tactics the opponent is bringing. Only, Seattle has increasingly used this time to go for the jugular.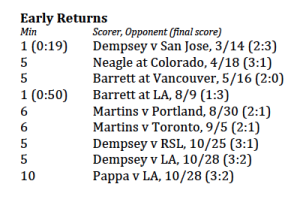 To date, Seattle can claim nine goals during the first through 10th minutes. That more than doubles the total of the past two seasons and it's also twice the norm for local pro clubs going back four decades.