Jill Ellis was the featured speaker at theWashington Youth Soccer's 50th Anniversary Gala. Although born in England she came to America during her formative years, when the first youth soccer boom was well underway. At that time, the U.S. Women's National Team was in its infancy. Fortunately, one of the team's early stars was in her midst and guided her development.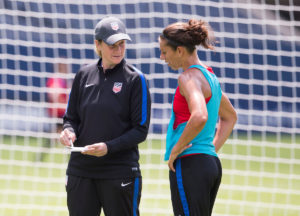 Who are the early women's players you wanted to emulate?
Media wasn't huge back then, so initially it was people within my inner circle. I had only played with boys in England. Here, my teammates–Megan McCarthy who was with the national team, and Julie Cunningham–were players I had tremendous respect for. You didn't see (the top players) enough to try to emulate, but you held them in high esteem. There was real quality to see. In northern Virginia, Marcia McDermott was an exceptional player and very skillful. The player who was most influential as far as me wanting to get better was April Heinrichs. She was our assistant coach at William & Mary. April came in and was this uber-competitive person, and I loved it. Here was a woman where competition just seethed out of her. It was tremendous. She had great feet and quickness. I remember working on my footwork with her in training. I didn't see her play for the national team; you didn't have that kind of access. But in terms of players I respected and admired, April is at the top.
What's your advice to all youth coaches, whatever the competitive level? Continue reading Five (More) Questions With Jill Ellis →