If set to a soundtrack, the game is more suited to symphony than garage band. Fortunes can change quickly in soccer, but usually following a long, drawn-out build-up. Yet there are the exceptions, when the drumbeat does double-time and the cymbals crash repeatedly.
So it was on Sunday. Just when it was seeming Dallas and Seattle were destined to finish the first leg of their series in a scoreless stalemate, the Sounders came unleashed, attacking in fury and soon finding themselves as top dog in a pairing with the top side in MLS this season.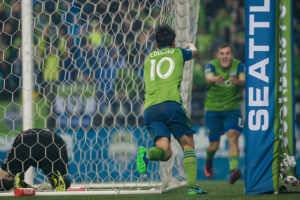 Interim (Really? Still?) coach Brian Schmetzer pondered in his postgame presser whether he'd ever witnessed anything quite like it, the succession of blows by Valdez, Lodeiro and, again, Lodeiro during an 8-minute span early in the second half.