Coming a Long Way While Putting Family First
It was a simple point of fact and yet so telling. Fourteen members of Seattle University's original varsity soccer team were reuniting 50 seasons after the program first formed.
Later that day, the ranks of alumni would swell to about a hundred former Chieftains and Redhawks as defending champion Seattle U hosted its WAC opener, a win over nationally-ranked Utah Valley. A capacity crowd was expected under the lights at Championship Field.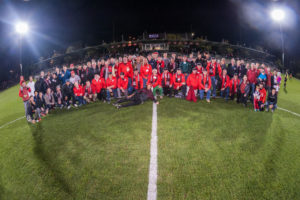 But at brunch that morning, as they shared stories and consumed plates of eggs, sausage and toast, Joe Zavaglia stood to interject a timely piece of information: This was the first time these teammates had shared a meal together.
"It's 50 years of history of guys who have played through tougher times but never as successful as times as these, (and it's) a cause to celebrate," recalls Zavaglia, the first team captain. "It's an incredible feeling."