It was a seminal moment in the shared experience of Seattle area soccer history. To the casual observer it would've appeared to be American boys run amok. To Walter Schmetzer, however, it was the inspiration that would launch a business of 43 years and probably thousands of stories.
Forty-some years before Brian Schmetzer delivered an MLS Cup to Puget Sound, his family's name became synonymous with quality soccer goods dispensed on Lake City Way and, more recently, Aurora Avenue. Schmetzer's Sporthaus helped outfit generations of players in a region gone mad over the game, until closing the doors for good earlier this month.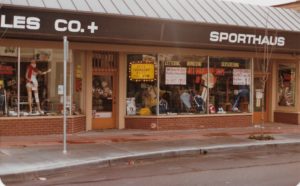 One of the first such stores in the Northwest, Schmetzer's was the region's longest-running soccer shop. It preceded premier academies and every women's collegiate program in the state, and thrived while multiple professional clubs fell by the wayside.
At its essence, Sporthaus was a family business dedicated to delivering exceptional equipment and service to a demanding demographic. It was not always easy, and shrewd stewardship from two generations of Schmetzers proved to be the essential ingredient. While its closing after nearly 43 years may make some wistful, it leaves behind a mass of memories, beginning with Walter Schmetzer's recollection of a summer day in 1974.
Pursuing a Vision Continue reading Everything Must Go →